Manhattan LED Signs
It's nice to have that retro neon vibe on your storefront to attract customers better, especially if your business operates during nighttime. Unfortunately, neon signs come with costs and effects on the environment that aren't exactly good for your business.
That is why The Signary New York offers a great alternative—our Manhattan LED signs!
You can have these signs in the form of LED displays, LED tubes, or LED-illuminated traditional signage (e.g., cabinet signs, channel letters). The choice will come down to where you want to install your sign, how much your budget is, and what look you're going after.
Regardless of the LED sign that you choose, however, The Signary New York will expertly fabricate and install it for you. We'll ensure that it won't only highlight your brand image but also be appropriately designed based on your marketing purpose, target market, and visibility need.
Discuss your signage needs with our team today and start planning how you can effectively outshine your competitors.
Call The Signary New York at (646) 904-5190 for your Free Consultation with a Manhattan LED Sign expert!
Indoor LED Signs
LED signs are commonly utilized for outdoor purposes. But if you're looking to enhance your interior for better workflow and customer experience, these signs are also beneficial. You can use them for wayfinding, interior design, and indoor advertising to further encourage customer purchases.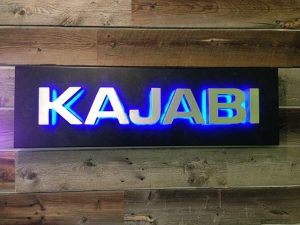 LED tubes are more commonly used as "OPEN" and other label signs. These tubes are so flexible that they can also be easily bent into the shape of your business name and labels for bathrooms, exit points, and various stations in your store (e.g., order stations, pick-up counters). You can also shape them into attractive images, quotes, and any other aesthetical addition to your interior.
These LED tubes are practically a cheaper and safer replica of neon signs. They also don't exude heat, so they are safe to the touch even if they're installed low.
Aside from LED tubes, LED displays and LED-illuminated traditional signage, such as channel letters, can also be utilized indoors. Compared to other lighting options, LEDs are cheaper to maintain, which gives you more budget for other business expenses.

Programmable LED Message Centers
What makes programmable LED message centers more cost-effective than other signs is their ability to change displays whenever needed.
Using your computer, you can alter the texts and images they show to easily promote new products or upcoming events.
This type of Manhattan LED sign will not only save your time but will also save a significant amount of money, as compared to constantly buying new signage for the promotion of new business offerings. You also won't have to change your signage if a certain product changes its price.
We can install your LED message centers as standalone signage or as part of other signage structures, such as pole signs or monument signs. They can also be further customized to have either monocolored or full-colored displays.
Full-Service Lighted Sign Company
Whether you want the classic look of LED tubes, the maximized visibility of LED-illuminated signage, or the modern appeal of LED displays and message centers, The Signary New York is fully equipped to design, manufacture, and install all these for you.
You can rest assured that the design, materials used, and installation process will be done by professionals who will use the necessary tools to ensure a safe, meticulous, and efficient procedure.
Of course, all while keeping your preferences in mind so we can ensure your 100% satisfaction.
Regardless of how much your budget is or what timetable you have for the whole project, trust The Signary New York to customize your Manhattan LED signs to meet your needs and deliver your sign on or before your set deadline.

Free LED Sign Consultation
With LED signs, you can keep your visibility at the highest percent even when the weather is bad or when the sun has already set. Customers can't help but be attracted to their bright light and the charm it adds to your establishment.
Indoors, you can further utilize our Manhattan, NY LED signs to guide your customers towards spots in your store or building and to simply make your interior an even more captivating place.
So what are you waiting for? Talk to our signage experts today and discuss how you can get maximum results from your LED sign investment.
Call The Signary New York at (646) 904-5190 for your Free Consultation with a Manhattan LED Sign expert!